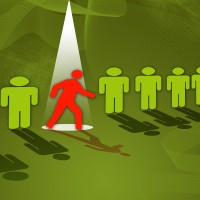 Have you ever had a dream to start your own business venture but within seconds you've talked yourself out of it because you think there are too many people already doing the same thing? Imagine how different the world would be technology wise if Steve Jobs had thought the same thing.
As if it wasn't enough that he took on giants in his industry when he created his first computers to rival companies like IBM, he then decided to break into the mobile phone market, and everyone around him told him he was crazy. Who got the last laugh on that one?
When I decided to create a website about positive thinking and motivating people, I could have sat there and thought "I will never be as successful as Tony Robbins, or Richard Branson or Bob Proctor" and so on, but I remembered that each of us have something that nobody else has…we are each unique, there is only one of us.
Therefore, even if you are explaining something to somebody that has already been explained by thousands of others, you have your own way of saying it which might be the thing that finally makes that person understand.
Ok, so what about if your business is selling something that can be purchased from many other business? Well, the way that you treat that customers could be better, or more unique, more memorable etc. Maybe there is a bonus item you could give them with their purchase that can't be acquired anywhere else.
All of that aside, sometimes it pays to just ignore whatever else is going on, and decide to go ahead with your plans regardless of competition. After all, if there is a lot of competition proving that the market is big enough, you don't have to try and take over the entire sector; you can just target a specific sub section and do very well.
You see, if you target a smaller group, you can create something that will be more tailored to them, which will make sales a lot easier as they will see it is a product that caters specifically for their needs or desires.
Look, what are your options? You can either give up before you even get started, or you can just go for it. As the Nike slogan says, "Just Do It". What have you got to lose? If you really do have a dream to start a business or any new venture, don't wait until tomorrow, start making plans and taking action today!