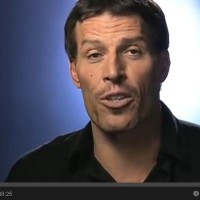 Tony Robbins is well known for motivating people, getting them through difficult times and reaching their full potential. This video is slightly different in that he looks to find the answer to beating procrastination, and more importantly following through a project from start to finish.
It has been said that the main difference between those who are successful and those who are not, is simply the fact whether you quit or not. Tony is joined by two entrepreneurs who are experts in online marketing and have launched multiple multi-million dollar products.
This is a fun video to watch and you are guaranteed to learn something from it. At one point Tony confesses to making 400 million…in one day!
Tags: how to follow through, how to stop procrastination, tony robbins video